244 - 284 A Street (along the Fort Point Channel)
BPDA Urban Design & Ground Floor Uses Virtual Public Community Meeting
Let the Boston Planning and Development Agency and the developer know your thoughts and ideas to improve:

Urban Design: Does the architecture and public realm layout enhance the character of the neighborhood?

: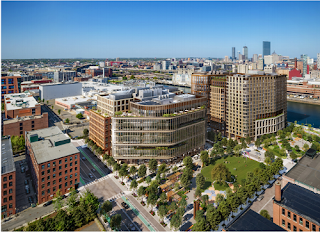 Building Heights & Density: 2 of the 3 building exceed zoning: one by 80% and the other by 25% with mechanical extending 50 feet into the sky. Do the 180 feet buildings w
all off the
neighborhood from the water? Does the inclusion of another 180 foot building across from historic 75 foot buildings divide the neighborhood?
Ground Floor Uses: Do the ground floor uses support watersheet activation and park activation? Do they offer a diverse set of civic, cultural & retail uses at price points that include a high degree of affordability for Boston residents, workers and visitors that complement the offerings in the Seaport? Will there be opportunities for small business and especially minority owners to flourish?

This is critical point in the approval process. Decisions made now will not be changed. What do you want to see and have in this last waterfront expansion of the neighborhood?
244 - 284 A Street, the 6.5 acre development along the Fort Point Channel & A St (aka former Gillette Channelside parking lots), is resuming the approval process from the City and requires feedback from the neighborhood and other advocates.